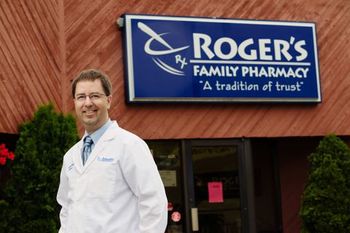 Byron Olson, Pharm.D.
Staff Pharmacist, Owner, Manager
Byron grew up in Viborg, SD. He graduated fro SDSU College of Pharmacy in 1995. He earned his Doctorate degree in 1997. Byron completed Pharmacy Residency Program in Geriatrics and worked for 8 years in hospital pharmacy. He then worked for 6 years in retail pharmacy before coming to Roger's Family Pharmacy in 2012. In 2016, Byron and his wife Beryl purchased the pharmacy from Roger. Byron and Beryl have 3 children.
Leah Rempfer, Pharm.D.
Pharmacist
Leah graduated from SDSU College of Pharmacy in 2005 with her Doctorate degree in Pharmacy. She spent 12 years working in Retail Pharmacy before moving to Roger's Family Pharmacy in Yankton. She enjoys learning about more holistic alternatives such as supplements, herbs, and oils to utilize alongside traditional prescriptions therapy. Leah and her husband, Joel, live on a farm in Yankton county along with their 7 children.